In a few hours, an annular solar eclipse will hit the western portion of the United States! More than 80 percent of sun will be blocked as the moon passes between the earth and the sun. Unfortunately, if you live east of the Mississippi River, you won't be able to see the eclipse in person, because the sun will have already set by the time it occurs in your area.
The solar eclipse will be visible in Asia and Western United States. Don't worry if you cannot see the event in person. There are a number of live feeds that will allow you to watch the eclipse (see the video feed below). They call this once-in-a-10-year annular solar eclipse (annulus is Latin for "little ring") the "ring of fire," because the moon blocks most of the sun, but leaves a ring of sunlight around the moon.
Check out the section below "Eclipse Times In Your Area" and the section following that to find out exactly what time you'll need to watch the sky to catch the solar eclipse. Be aware that the times listed in the chart will need to be converted and daylight savings time accounted for.
If you're one of the lucky ones who can see the event live, be sure not to look directly into the sun. Check out the next section for instructions on safely viewing the solar eclipse.
How To Safely Observe The Sun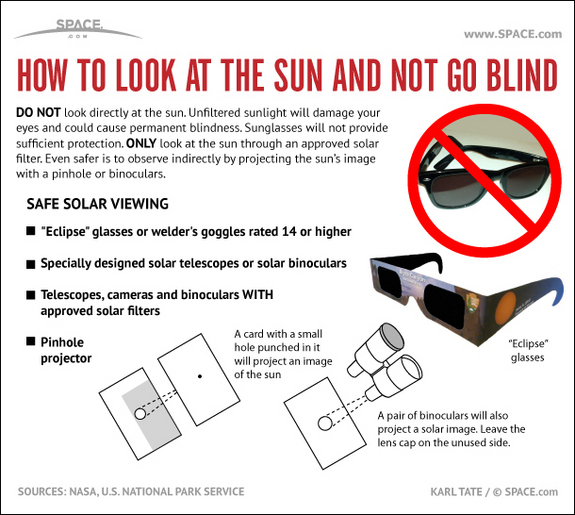 Source SPACE.com: All about our solar system, outer space and exploration
Eclipse Times In Your Area
<![if !IE]><![endif]>
Time Conversion
Watch The May 20, 2012 Solar Eclipse Live Online!
Check out the following live feeds of the solar eclipse in the videos below. The
SLOOH Space Camera
, also has a wealth of information about the eclipse and will provide live coverage as the event unfolds!
Boulder, CO-A Hydrogen-Alpha View Of The Sun:
Boulder, CO-White-Light View Of Visible Surface Of Sun:
View From Mt. Fujiyama
Panasonic will broadcast live from the top of Mt. Fuji after the broadcast crew, engineers, and mountain guides scale the ice-cold summit. Mountain-climbers
climbed to the top of Mt. Fujiyama
in an attempt to get the best view of the eclipse.
View Eclipse From Area 51 In Nevada:
Sources:

Solar Eclipse this Weekend
2012 May 20: Annular Solar Eclipse
Solar Eclipse Sunday Promises Spectacular Views from China to Texas
Sunday's partial solar eclipse is only the start